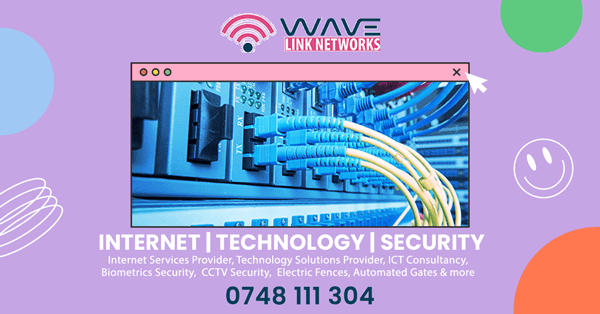 Internet Networks Installation
Installation Civil Enginner
f you are in Nairobi, Kenya, and in need of top-notch internet networks installation services, look no further than Wavelink Networks. We are your trusted partner for all your connectivity needs. Contact us today at 0748111304 or email us at
Internet Networks Installation in Nairobi, Kenya: Reliable Solutions by Wavelink Networks
Are you looking for professional internet networks installation services in Nairobi, Kenya? Look no further! Wavelink Networks is here to provide you with reliable and efficient solutions to meet all your connectivity needs. With our expert team and cutting-edge technology, we ensure seamless installation and setup of internet networks for both residential and commercial purposes.
Why Choose Wavelink Networks?
At Wavelink Networks, we understand the critical role that a robust and high-speed internet connection plays in today's digital world. Whether you need internet for your home, office, or business, our team of skilled technicians is dedicated to delivering top-notch services tailored to your specific requirements.
Wide Range of Installation Services
We offer a comprehensive range of internet networks installation services to cater to diverse needs. Our solutions include:
Residential Internet Installation: Enjoy uninterrupted internet connectivity at home with our reliable installation services. We ensure a seamless setup, enabling you to browse, stream, and connect with ease.
Business Internet Installation: As a business owner in Nairobi, you need a stable and fast internet connection to support your operations. Our experienced technicians will install robust networks that can handle the demands of your business, facilitating efficient communication, collaboration, and online transactions.
Commercial Internet Installation: Whether you own a retail store, restaurant, hotel, or any other commercial establishment, we have you covered. Our team will install scalable and secure networks to ensure smooth customer experiences and efficient operations.
Unparalleled Expertise and Technology
When it comes to internet networks installation, expertise and technology are key. Wavelink Networks combines years of industry experience with state-of-the-art equipment to deliver superior results. Our skilled technicians have in-depth knowledge of the latest networking technologies, enabling them to handle installations of any scale or complexity.
Seamless and Timely Installations
At Wavelink Networks, we understand the value of your time. Our goal is to provide you with a seamless and hassle-free installation experience. Once you contact us at 0748111304 or send an email to info@wavelinknetworks.co.ke, our friendly customer support team will guide you through the process. We will schedule a convenient appointment, and our technicians will arrive promptly at your location in Nairobi.
Customer Satisfaction is Our Priority
Customer satisfaction is at the core of our business philosophy. We strive to exceed your expectations with every installation project. Our team will work closely with you to understand your requirements and design a customized solution that perfectly aligns with your needs. We are committed to delivering reliable and high-performance internet networks that you can rely on.
Contact Wavelink Networks Today!
If you are in Nairobi, Kenya, and in need of top-notch internet networks installation services, look no further than Wavelink Networks. We are your trusted partner for all your connectivity needs. Contact us today at 0748111304 or email us at info@wavelinknetworks.co.ke to schedule a consultation or inquire about our services. Experience seamless connectivity and unlock the true potential of the internet with Wavelink Networks!