Top 10 Youtube Channels in Kenya ranked by Subscription Numbers
Youtube, as a video sharing platform, has come along way. Since its founding in 2005, the platform has grown and morphed into a behemoth, eclipsing its initial competitors like Daily Motion and Vimeo on an unprecedented magnitude.
While New video sharing platforms have entered the market since, including facebook, twitch and instagram, youtube continues to command a strong place as the preffered video sharing and streaming platform for busineses, media houses, entertainers and content creators, learning institutions and governments.
In this post, we share a list of the top 10 youtube channels in Kenya, ranked by the number of subscribers. The data is from the Social Blade, digital platforms data analytics.
Citizen TV Kenya
TechFreeze
KTN News Kenya
NTV Kenya
Churchill Television
Africha Entertainment
TamuTamu TV
K24TV
Otile Brown Official
Bahati Kenya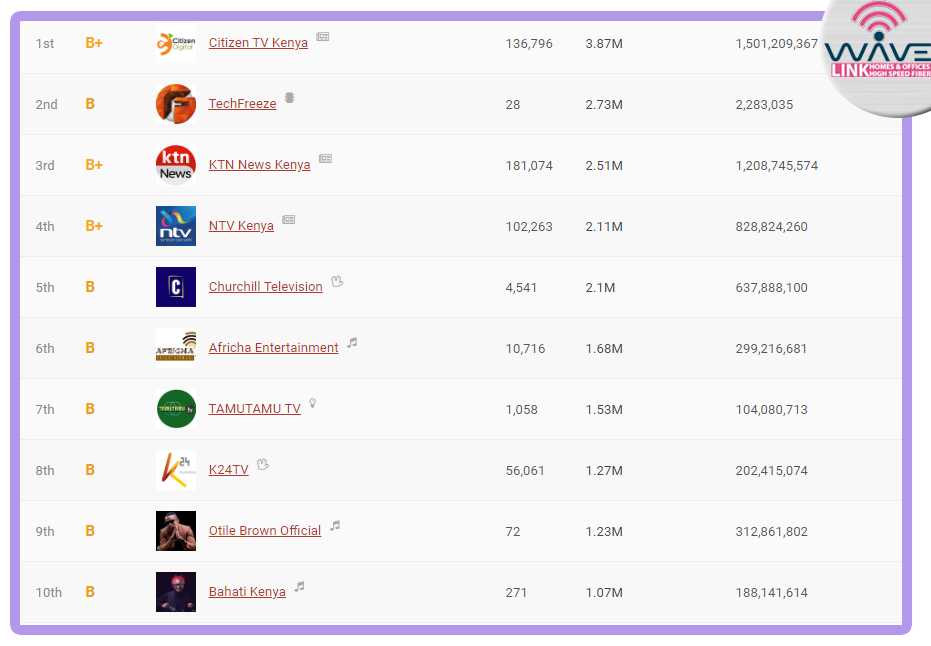 More information on the analytics can be viewed at :